La Academia Spanish Immersion will offer a summer program in their new Hurst location. If you are looking for the opportunity to enhance your Spanish language skills or to learn the language by immersion, La Academia Spanish Immersion is for you! Our Spanish programs are a terrific way for kids of all ages to learn Spanish while enjoying summertime fun.
Our students will attend class Monday to Friday for two hours each day. Our dynamic, experienced teachers make learning the Spanish language and culture fun and engaging. Children spend each day moving from one activity to the next, including special "No English!" times, designed to provide an immersion experience while still allowing for a ton of fun. A week or more of La Academia Spanish Immersion Program is guaranteed to boost your child's Spanish language ability!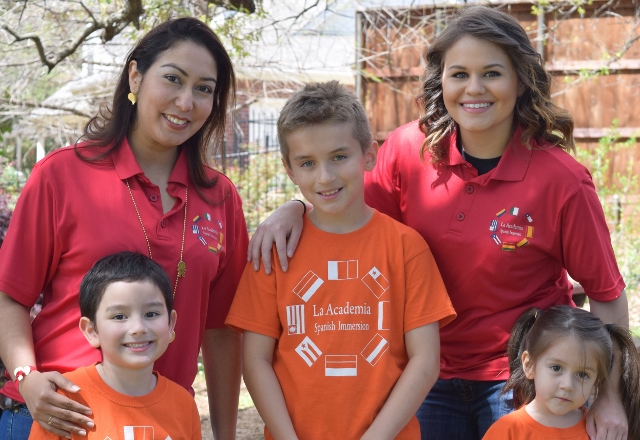 Activities
Grammar Classes
Vocabulary Builder
Spanish Activities
Reading Comprehension
Spelling Competitions
Converstational Skills
Crafts
Music
Traditional Games
$100 for Full Week
$80 for 3 Days
$60 for 2 Days
Location
La Academia Spanish Immersion, 1550 Norwood Drive, Suite 312 Hurst tx
Monday to Friday
Weeks of:
June 10, 2019 – Extreme Science
June 17, 2019 -Outer Space
June 24, 2019 – Spy Week
July 08, 2019 – Extreme Science
July 15, 2019 – Outer Space
July 22, 2019 – Spy Week

2 hour blocks
9:30 – 11:30 am
12:00 -2:00 pm
2:30 – 4:30 pm
FAQ
Can I signup my child for multiple weeks?
Yes, you can sign up for as many week as you like.
Do I have to sign up for a full week of camp?
No, we have full week option, a 3 day option and a 2 day option.
Is each week the exact same content?
No, we have weekly themes that keep each week unique, fun, and interesting.
Spanish Summer Camp Sign Up