Spanish Lessons for Homeschoolers

La Academia Spanish Immersion we understand there are numerous ways to educate a child including homeschooling. We also know homeschooling curriculum and schedules are unique to each homeschooling family.
Back to School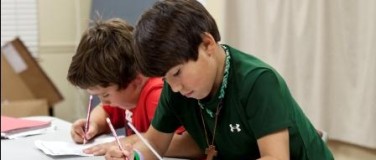 It's hard to believe but the 2015-2016 school year is about to begin! La Academia Spanish Immersion strives to bring out the highest potential in every student by offering development-appropriate instruction. We foster this relationship with our students to empower them to succeed in obtaining a grasp of the Spanish language.
We at La Academia Spanish Immersion prepare the students to live and work in a global society and we strive to help our students achieve a higher level of understanding in the Spanish language.
Just Starting or Seasoned Spanish Student?
Regardless if you have never spoken a word of Spanish or if you have studied Spanish for many years, we will setup a custom learning plan designed specifically for you. Our seasoned Spanish teachers have been teaching Spanish for over 20 years and know the most effective ways to teach individuals Spanish.
We have students that have never taken Spanish classes to students that were raised speaking Spanish. Our students range from elementary students to grandparents. Spanish is for everyone and it is never too early or too late to start speaking Spanish. We will be with you every step of the way and will custom a learning plan specifically designed for you. The key ingredient in learning Spanish is to have a desire to learn Spanish. If there is a will, then there is a way to learn Spanish and our experienced Spanish teachers know exactly how to guide each individual along their Spanish learning journey.
Spanish is not just another language to La Academia Spanish, it is the only foreign language we teach. We have a real passion for both the Spanish language and the Spanish culture. Learn Spanish, Live Spanish, Speak Spanish with expert guidance from La Academia Spanish!
Contact us today and let's begin your Spanish lessons.
Click here to Contact Us